So you want to change careers? Congratulations.
First things first: I'm here to tell you that this desire is completely normal. Curiosity and an interest in trying new things (in this case, a new career) is nothing to be ashamed of! In fact, part of professional growth is learning what you like to do and also what you don't like to do.
A 2016 Gallup report shows that 21% of millennials have changed jobs within the past year. So now you know, almost a quarter of people your age changed careers…you're not alone!
Before you step into the unknown, however, you need to take some time to think about how to navigate this chapter of your life.
Don't Rush Into a New Career
It's important not to rush into a career change without having a plan or knowing what tools you need to land the job. When seeking new opportunities and learning about different positions, the first step is to research the skills and knowledge necessary for the field you're looking to break into. You need to get a "lay of the land."
What are people in this field reading about? What software do professionals in this area use? What are there certifications or hands-on experience you need to develop before applying to this job?
Ask yourself: do I have the experience that I need to find a role in this industry? And if not, what can I do to level up?
If you feel that you already have the relevant experience, does your resume, Linkedin and social media reflect those skills? If not, how can you better demonstrate your talents?
Establish Your Personal Brand
So you're feeling good about your new direction and skills. Great.
As you network at events like Hustle Summit, you'll be happy to know, you can increase your chance of success, comfort level and confidence around the subject of being a career changer. How can you pitch yourself as a "career changer" at a networking event without feeling awkward? Deep breath.
Want to know the answer?
Here's the secret. One that hiring managers never tell you: when you're talking to a recruiter, you get to choose what to say to them. You're in control of how you talk about yourself.
First, take some time to become a Networking Ninja. Can you draw connections between the work you've previously done (or your passion areas) and the type of work you'd like to be doing?
When in doubt, let these questions guide your personal branding:
What motivates you as a professional, what's "your why"?

Why does this type of work excite you?
Why would a job doing a specific set of tasks make sense for you?
How do your personal values relate to what this company does or the job itself?
What relevant and recent accomplishment can you bring up? (and how does it apply to this field?)

Did you make something awesome?
What project or piece of your portfolio relates to this type of job or company
Have you solved a problem similar to the one this person or their company faces?
What's the next step you'd like to take to build on both your talents and achievements?

How do you hope to apply your skills and what do you want next?
Know Your Audience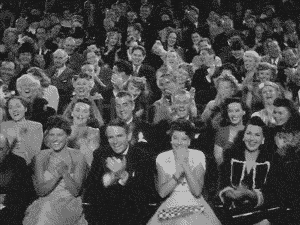 When talking to someone at a networking event, it's important to "know your audience" so you can adjust your pitch accordingly.
These tactics can help you do so:
Decide what past experiences to bring up in the conversation

Describe what makes you a good fit for the role or organization in question
The better you become at tailoring your pitch and making your conversations relevant to the other person, the better and more productive your conversations will be.
Be Curious
If you have the opportunity to speak with this person briefly, make sure you ask questions. Be curious.  Ask what their day-to-day is like. Ask them what type of people tend to do well on their team?  
My personal favorite: what's the biggest challenge in your work?
If you listen hard, you'll have the opportunity to follow up with creative solutions to these challenges.
Inform Your Network (But Be Selective)
Don't be shy. Let your network know that you want to pivot, and ask them to share advice and resources.
There is a balance, of course. You may not announce it to the whole office, but there are ways to tactfully inform friends, family and close professional contacts that you're actively searching.
Apply these simple tips when talking to others and during your career change – you'll be surprised by the results!